A talisman, the GmbH's AW22 Collection exhibit notes read, is "an object believed to have protective powers and bring good luck" – something we could all do, we we're sure you'll agree. For Benjamin Alexander Huseby and Serhat Işık, however, thinking of fashion in terms of protection is nothing new – indeed, you could say they have been exploring the talismanic properties of dress since their early days – crafting garments that serve as figurative "armor, both spiritually and physically speaking," says Serhat.
This season, however, the Berlin-based pair have delved deeply into that investigation, weaving previously treated thematic strands in various combinations – religion, spirituality, sexuality, racialized perception and high fashion conventions – into perhaps their most poignant offer to Date.
Starting from the undergarments of a 16th-century Ottoman soldier they discovered during their research – decorated with protective hand-painted calligraphy and intended to be worn under armor in battle – Serhat recalled of the Muskas his grandfather wrote for members of the village he lived in Turkey – "protective inscriptions written in Arabic, which are worn either pinned to your undergarment or as jewelry around your neck", he explains. So the natural response was to create their own auspicious script, bringing in Syrian calligrapher Abdelrazak Shaballot to create the bold visual motif that proudly sports point-collar silk shirts, wide-leg pants and leatherette boots.
Here, however, they sidestepped the religious inflections of their source material, instead taking a more secular spiritual route – "The main phrase here says 'safe from evil', which is just something that came to me in a dream!" Benjamin said. Prophetic indeed! It is nevertheless a collection that directly engages the codes and signifiers of Islamic culture, in particular those that marked Serhat's upbringing in a practicing Muslim home. They inform the jacquard and leather-effect tunics, notes Serhat, and the taqiyah caps worn by men at the mosque. And although its semantic content is unrelated to the Muslim faith, the inscription itself evokes memories of security, friendliness and beauty, he continues: "When you grow up a Muslim, voluntarily or involuntarily, these writings are something you are constantly exposed to. to – this is the only way to pray, and they are around you all the time to protect you – like in our houses above the doors. "The collection is a very personal exploration of spirituality based on our heritage," confirms Benjamin.
Where the grit of personal experience really kicks in is in an exploration of how sex and spirituality – or religion – intertwine, informing wrap-around blazers and plunging kaftans like mini- dresses paired with mid-thigh boots. While these looks may seem transgressive at first glance, the goal here – as we've seen in previous GmbH collections – has less to do with crossing boundaries, and more with inviting you to wonder. why you think they are crossed in the first place and which ones. It is an invitation to question the assumptions that the image arouses.
On the one hand, "if it was a women's clothing show, the idea of ​​a caftan with thigh-high boots wouldn't be provocative at all," notes Benjamin, "but I think seeing a guy without pants, and just that little bit of skin on the upper thigh, it becomes very seductive," challenging the gendered assumptions we irrationally impose on artfully stitched fabrics. It also sparks discussions about broader perceptions of faith. Islam, particularly the problematically black-and-white preconceptions around its relationship to homosexuality. "Islam is the religion that is most demonized because it is seen as hostile towards homosexuals, which still negates the idea that there really are gay Muslims and gay people growing up as Muslims," says Benjamin. "We wanted to find a personal way to express this — it's neither a critique of religion nor an attempt to analyze it. It's more a reflection of our personal relationship with him and how the world perceives him.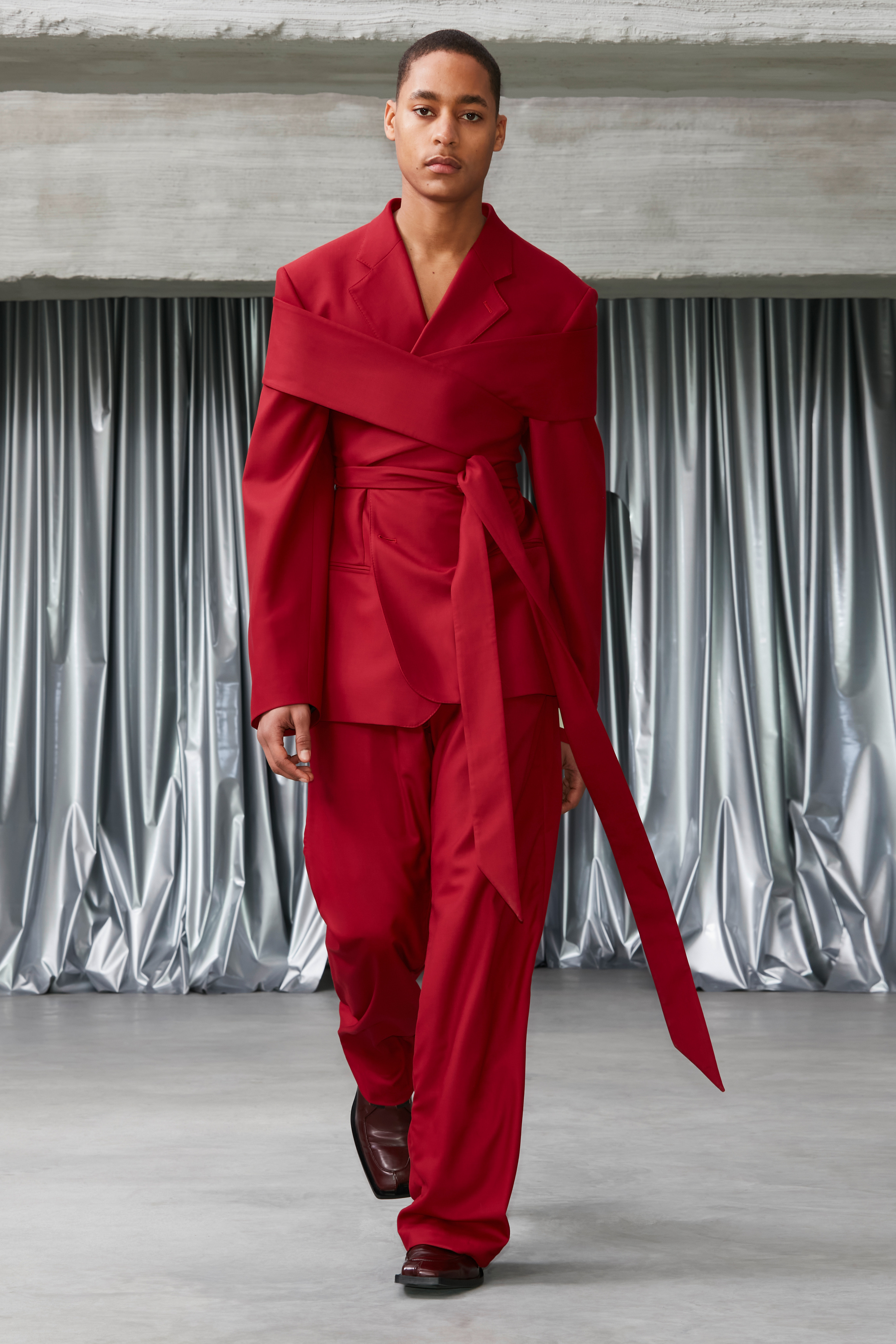 More than a statement, however, it's the fashion that members of the brand's ever-expanding community are craving to wear – and, in their own way, already are. For example, the look of Dad's borrowed blazer and Mom's better-day boots reflect a style savvy already demonstrated by a new generation of "gay Muslim kids who are exploring these spaces and ideas," Serhat notes. . . "They just don't seem as absurd as they did to me when I was a teenager. It really comes down to creating silhouettes that we see worn by our community.
This point serves as a necessary reminder of what is at the heart of what Benjamin and Serhat do. While their collections may be laden with the conceptual rigor of an anthropological thesis, they are first and foremost fashion designers – damn good ones. It goes without saying in their collections, but where it's made the most headlines of late is in GmbH's demi-couture line, which debuted for AW21. While the line's most iconic pieces so far have been the Insta-appropriate 'Revenge dress' pieces, this season sees an expansion of this brand mainstay into totemic wool coats with faux fur shawl collars. pyramids and elongated cuffs, and geometric yak horn neckline tops reminiscent of the sculptural theatricality of Rick Owens and Gareth Pugh. The reference, in fact, goes back a bit further, to mid-century couturier Jacques Fath – whom the fashion history buffs among you can watch by looking at the underside of garments, with V-cuts sensually revealing the upper back, a trademark of the French designer reinvented here for the male body.
Elsewhere, impeccable suits – a nod to "the ceremony of dressing for the mosque, thinking of older gentlemen like our fathers donning their best suits for Friday prayers," Serhat says – and coats with carefree sloping shoulders in shiny faux-Astrakhan bring a complementary neo-dandy touch into the mix – a distinguished couture sense that reaffirms the duo's ability to create garments that hold up without being aware of the context that influenced their making .
Placed alongside their latest collection, an acerbic and witty critique of white law, this leans a bit more into the personal than the overtly political – although for GmbH the two are still inextricably linked; codependent, even. In doing so, however, they managed to introduce a frank vulnerability – a chink in the armor – that makes this their most nuanced, introspective and – perhaps paradoxically – most relevant work to date.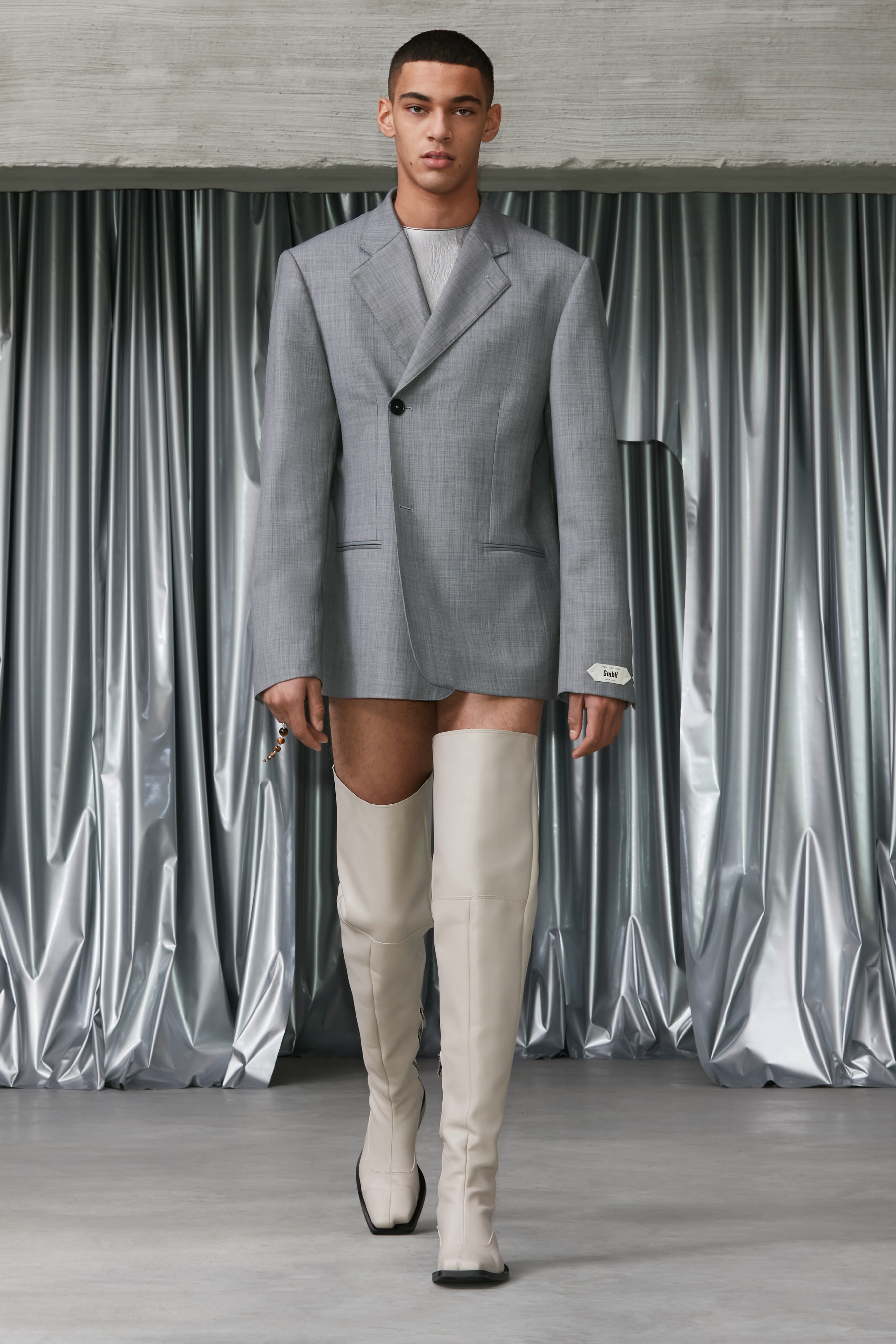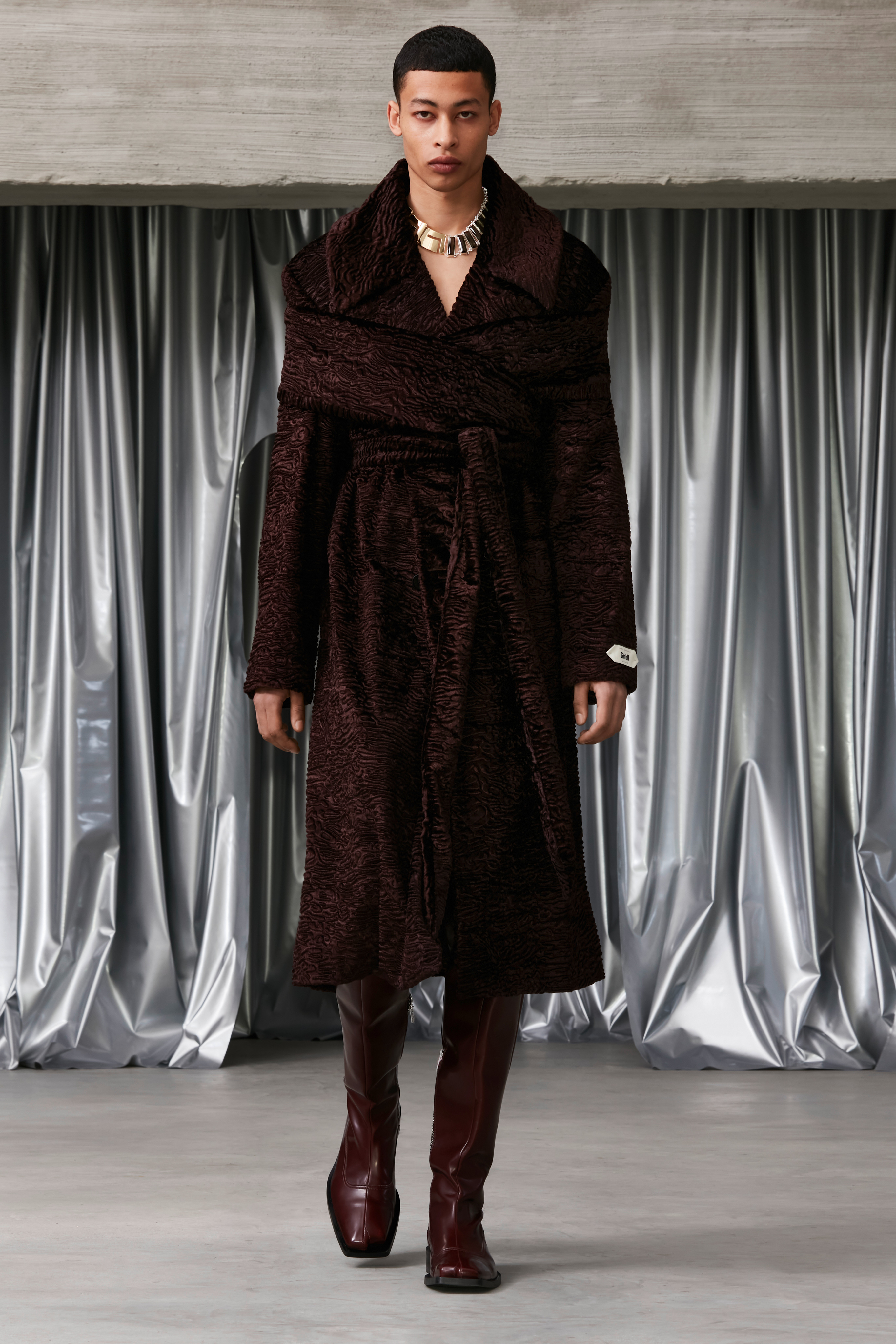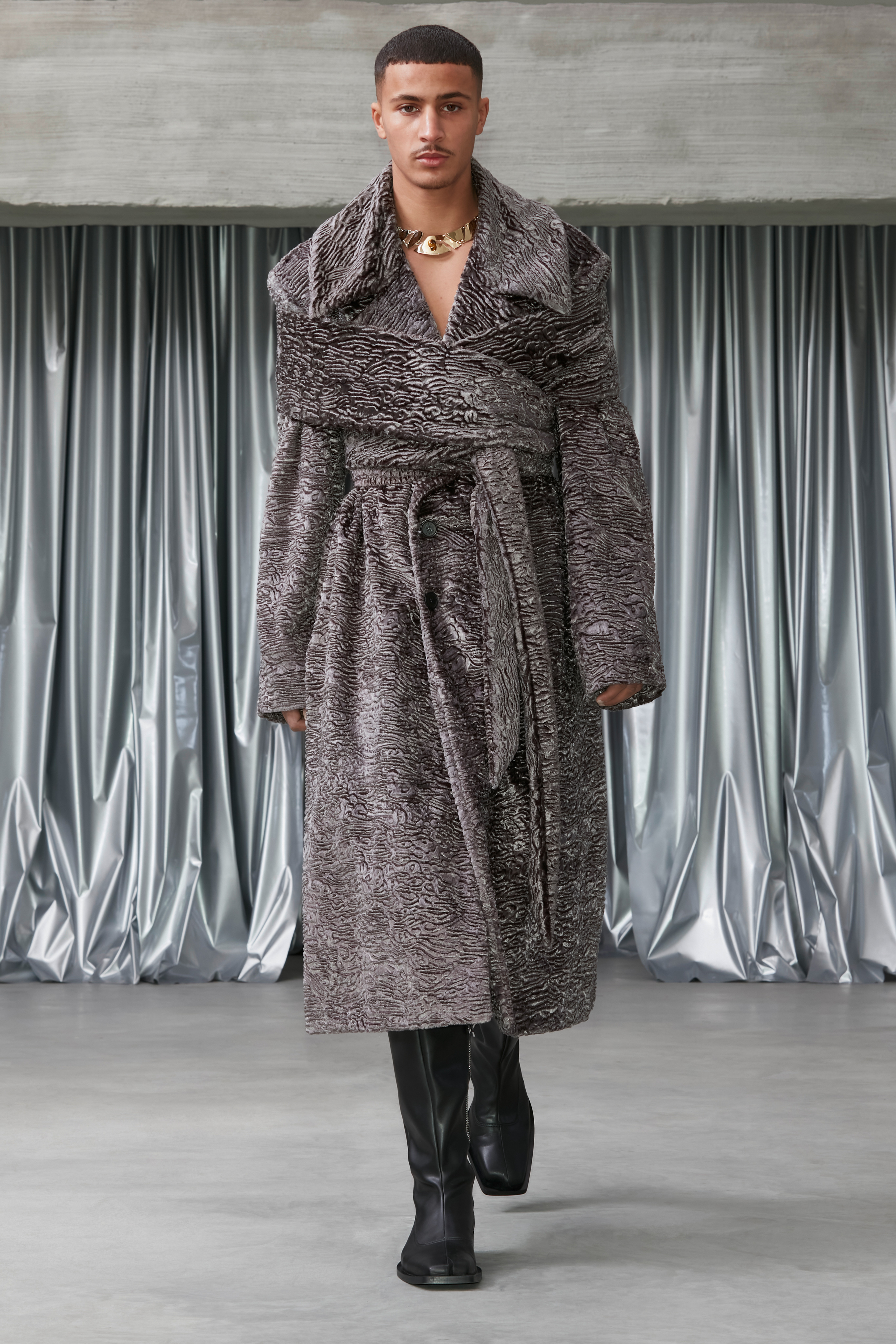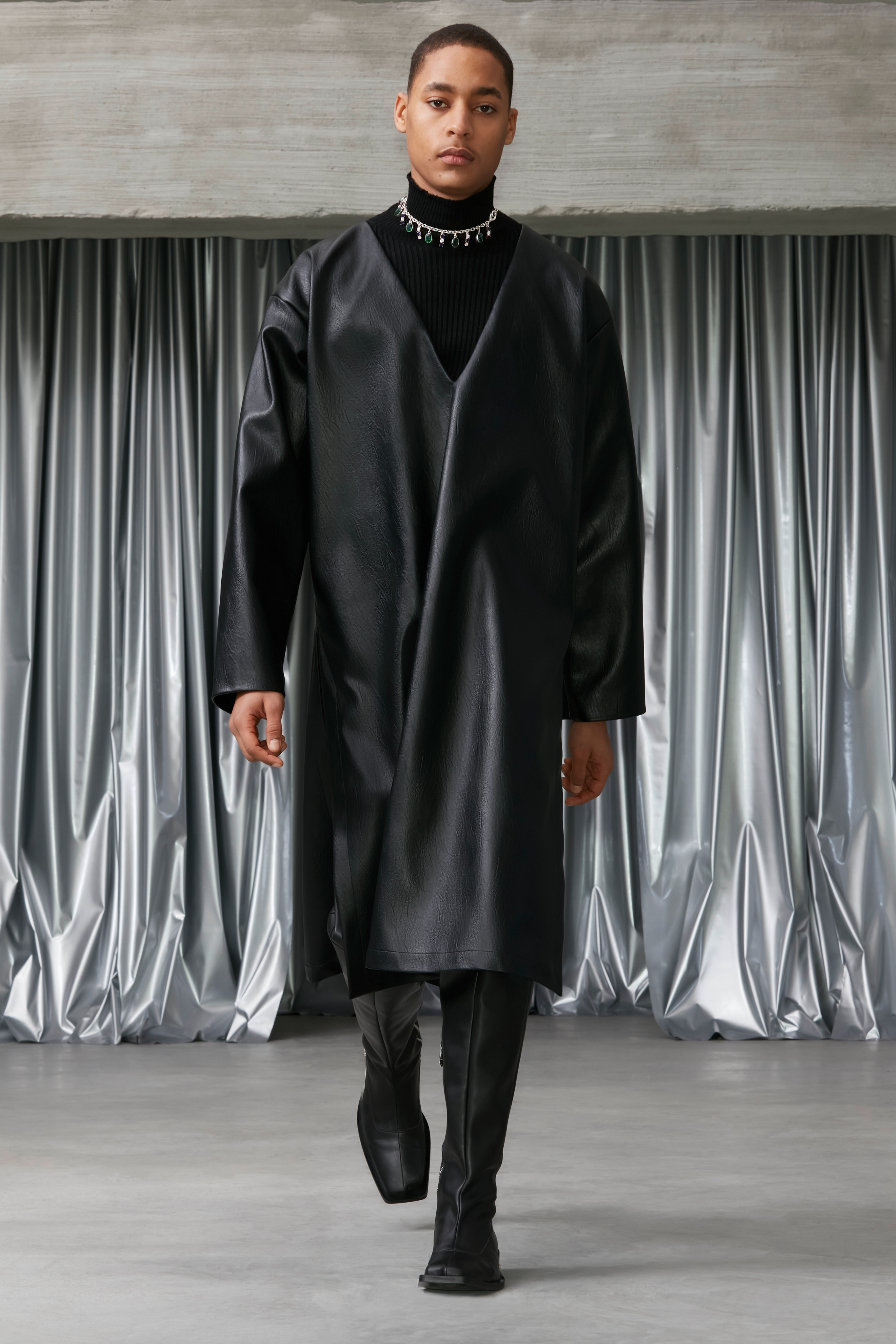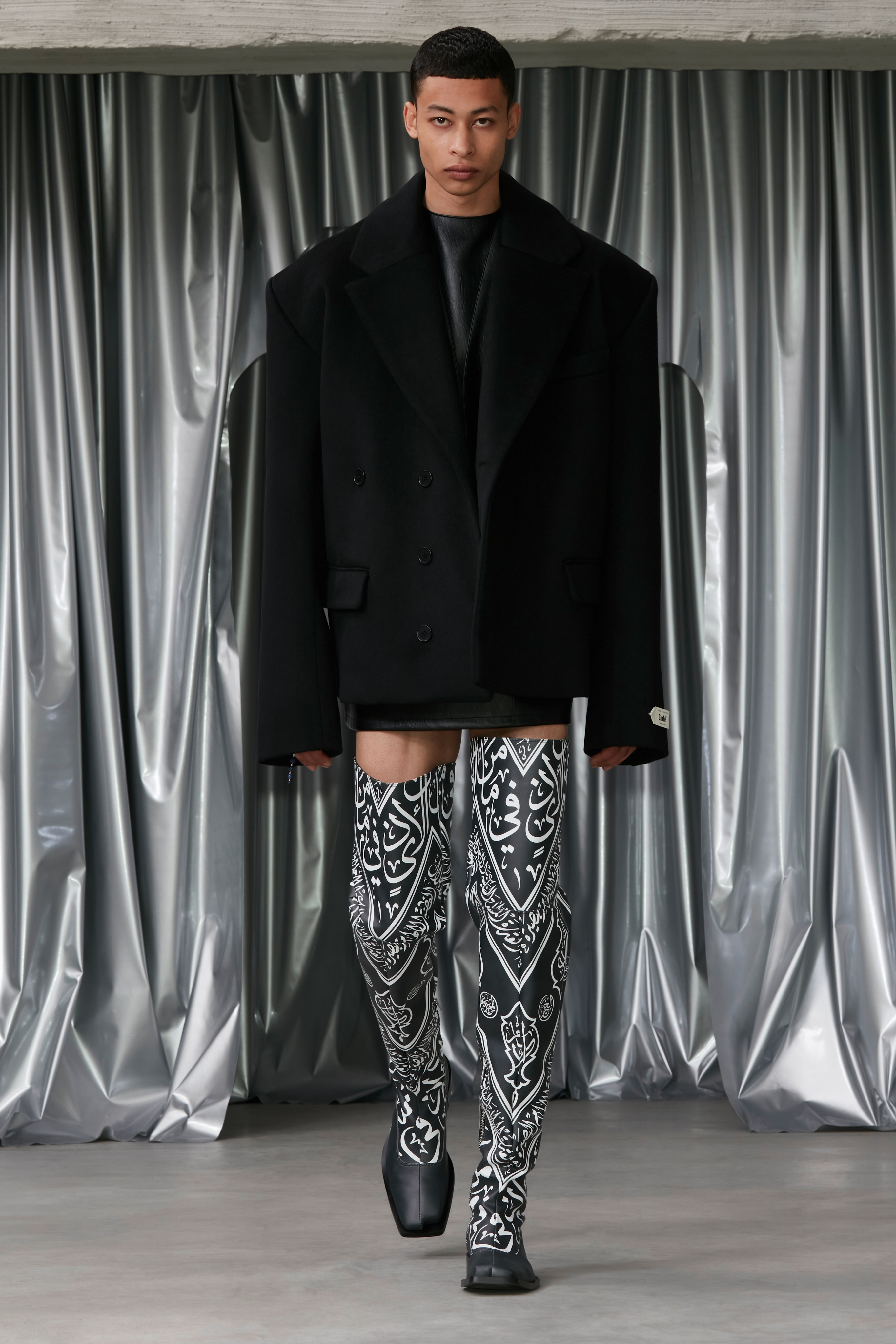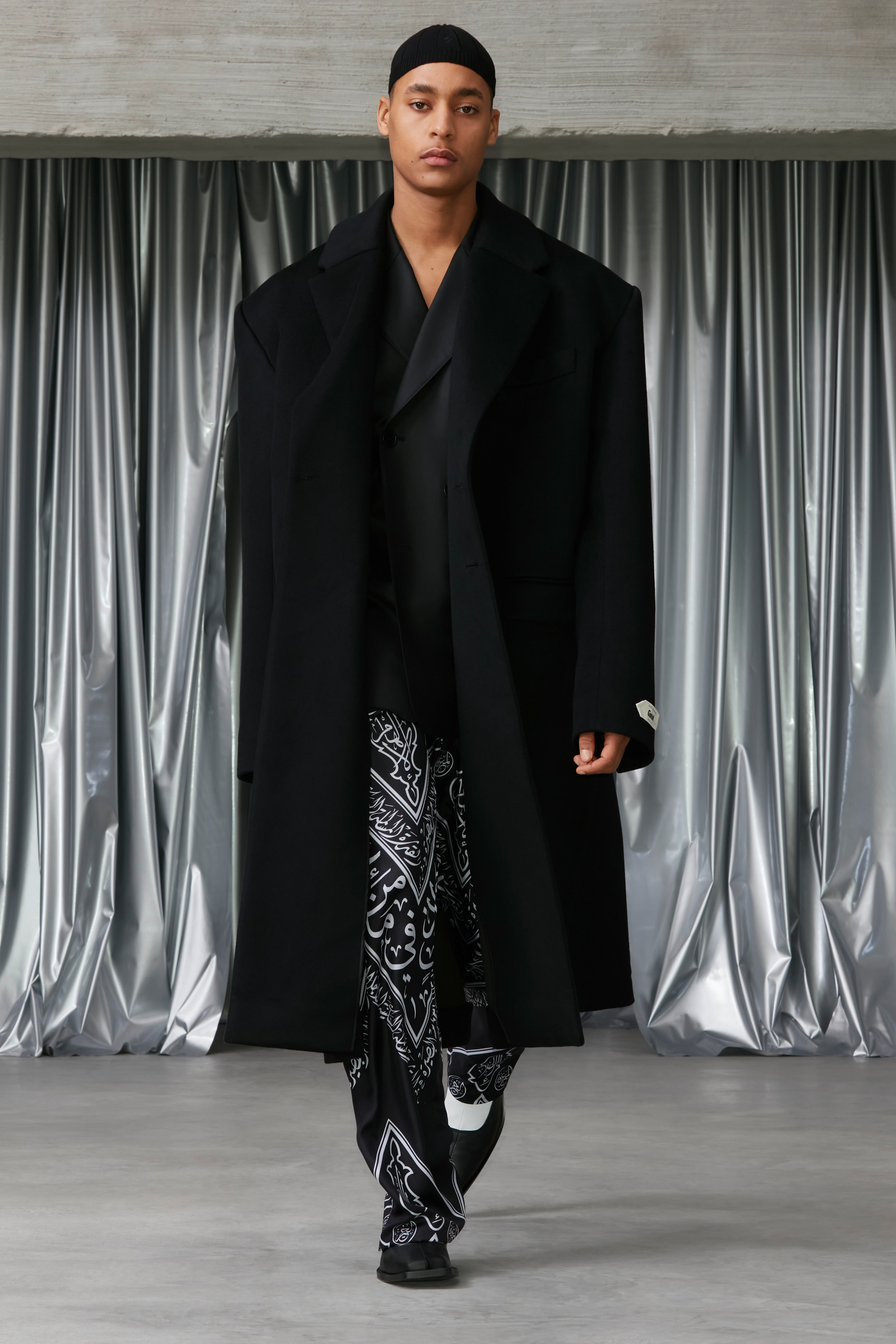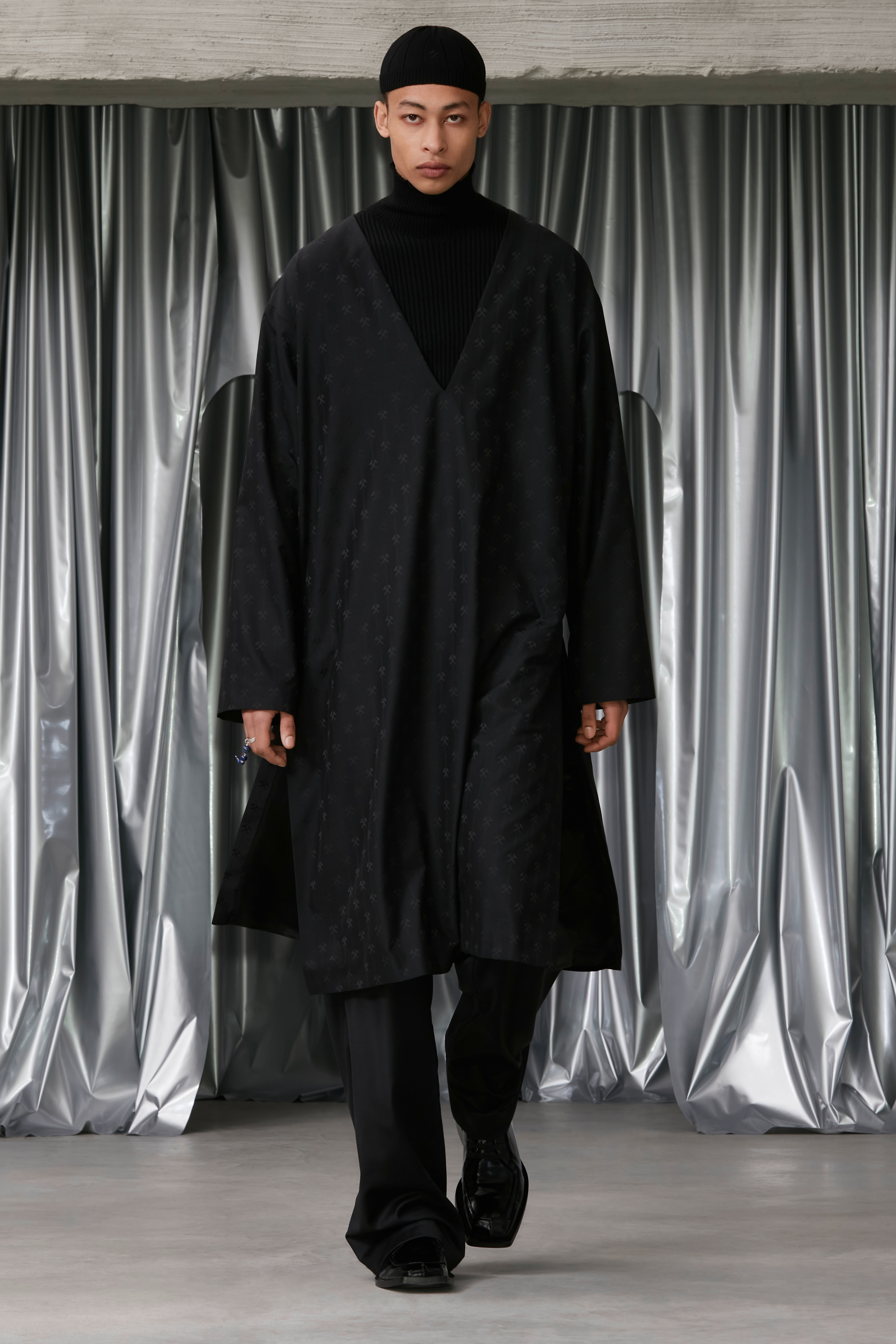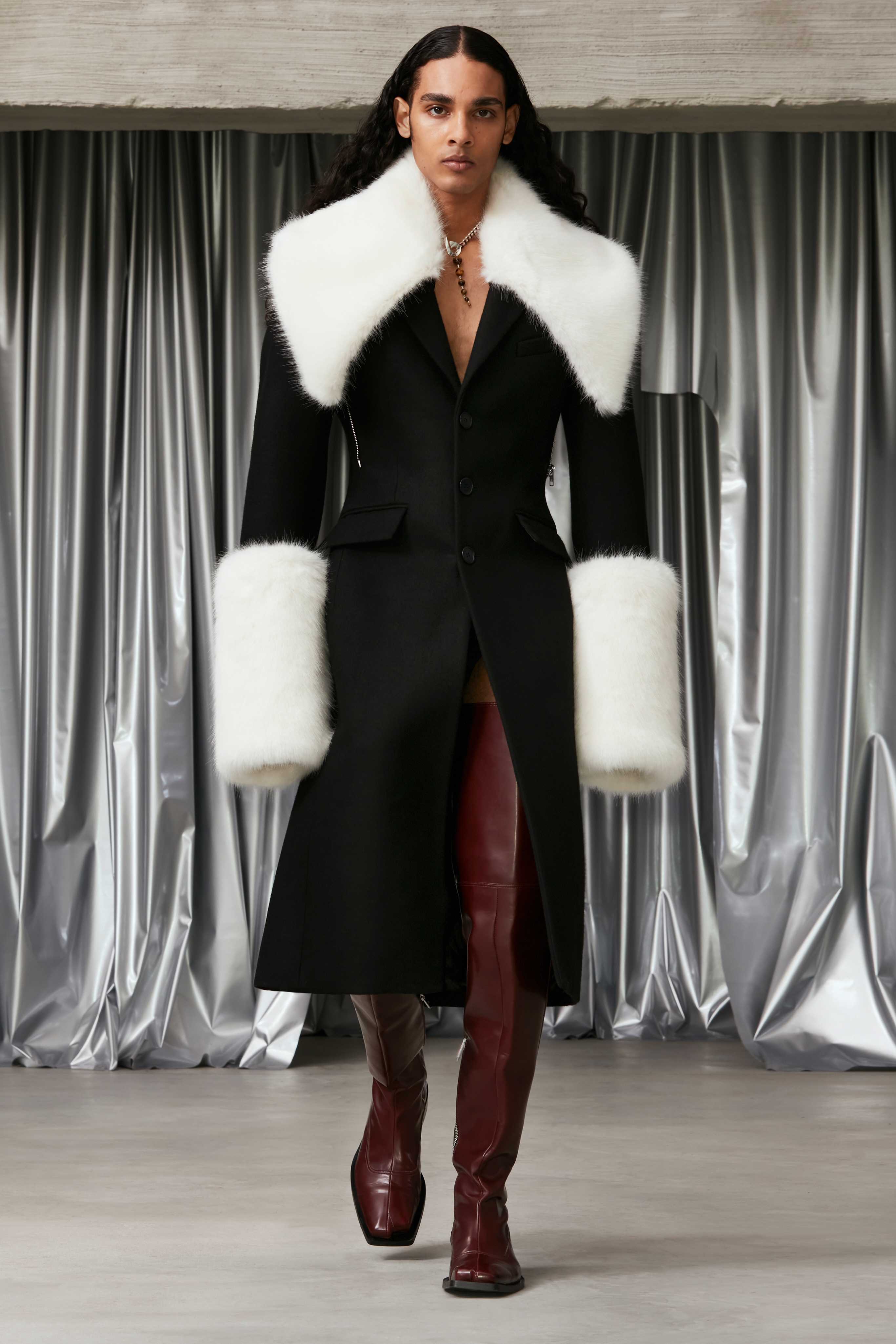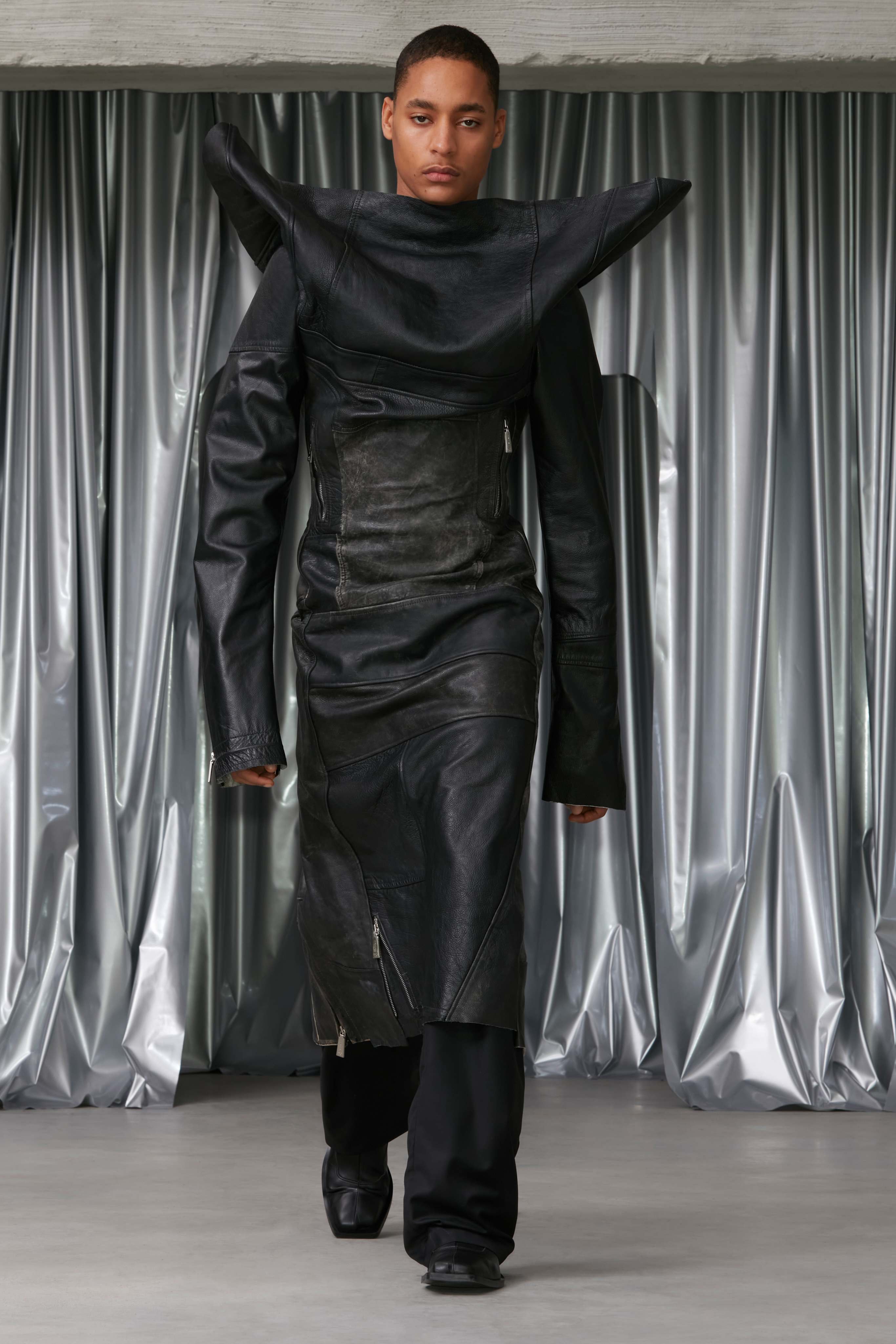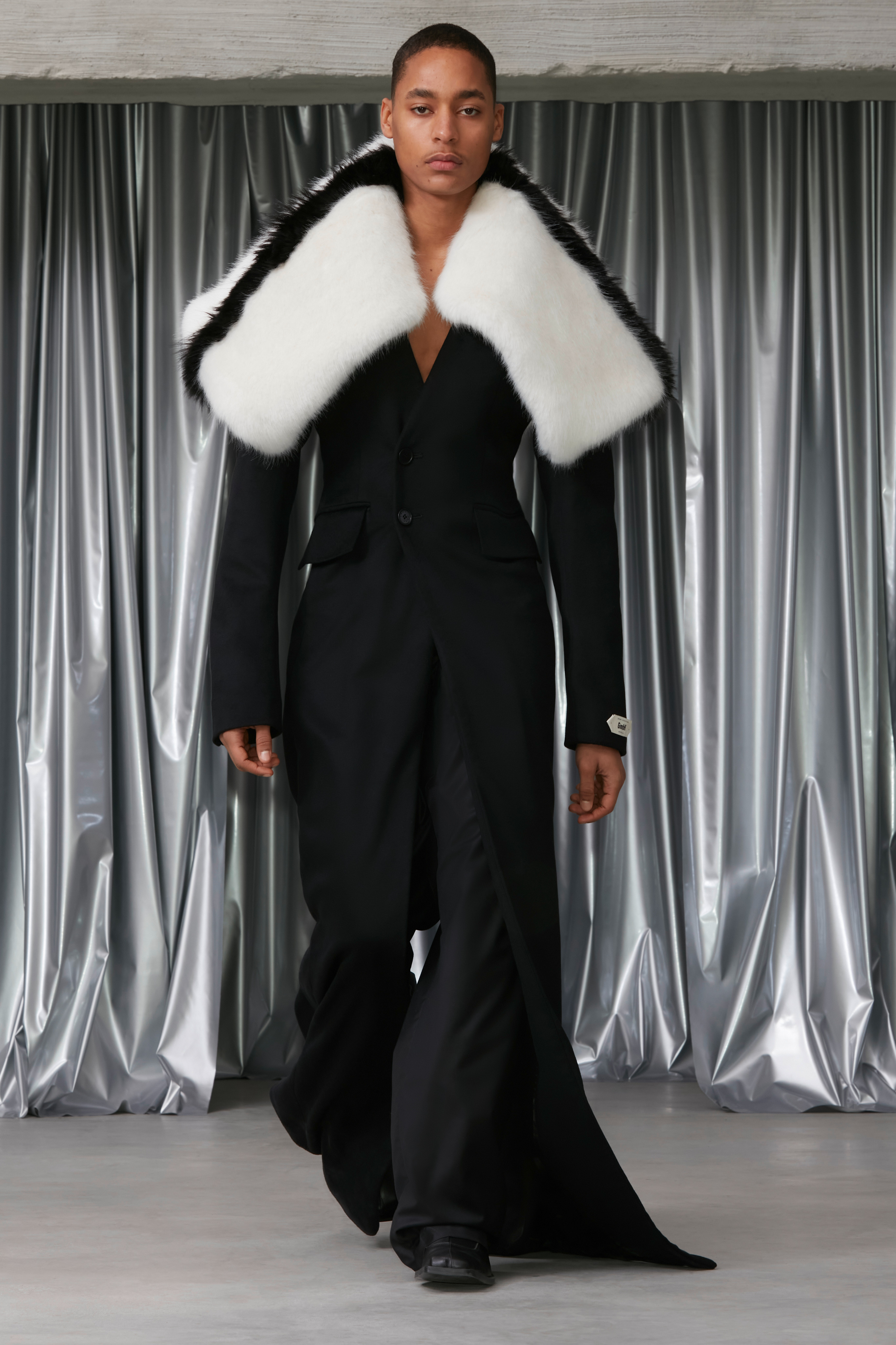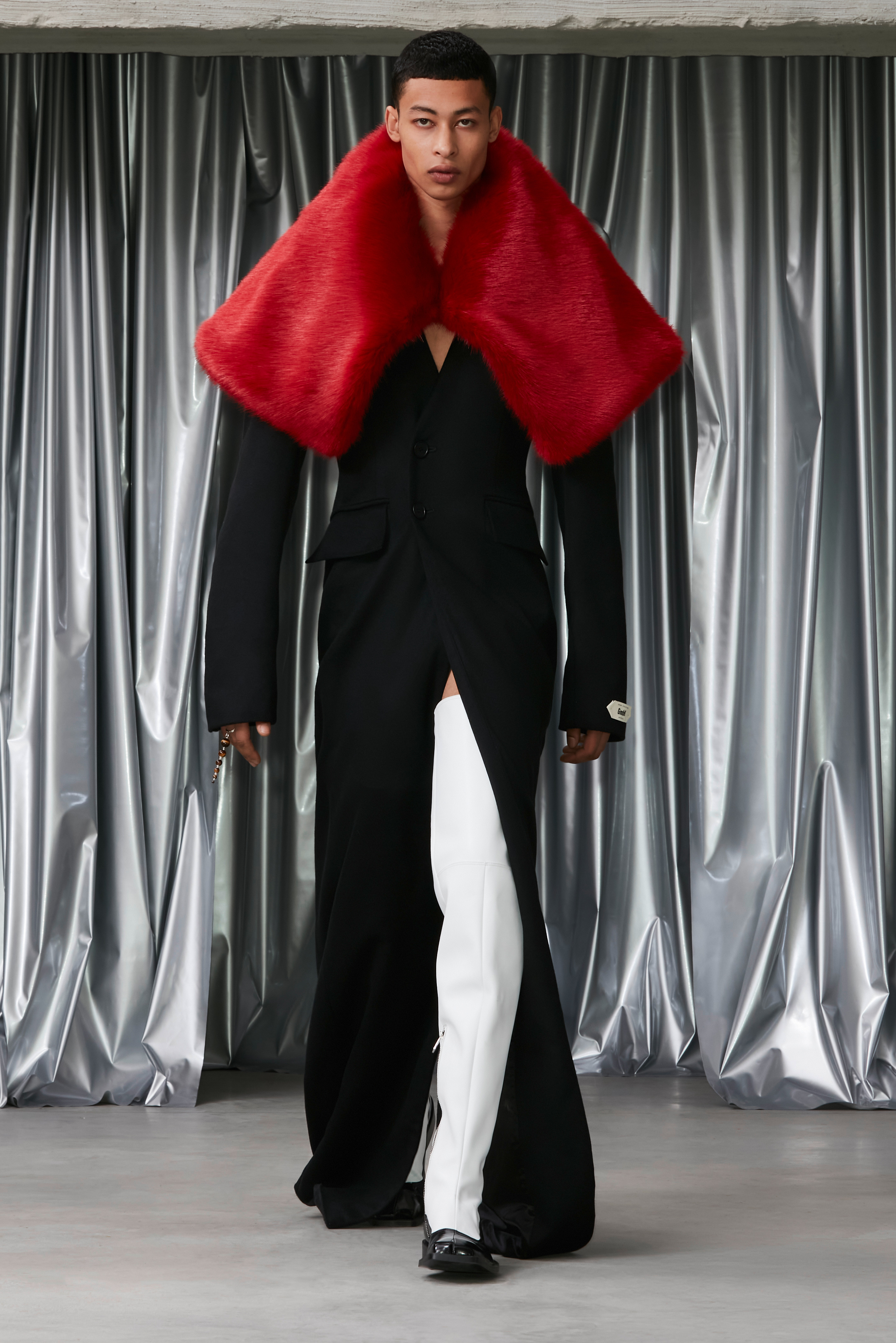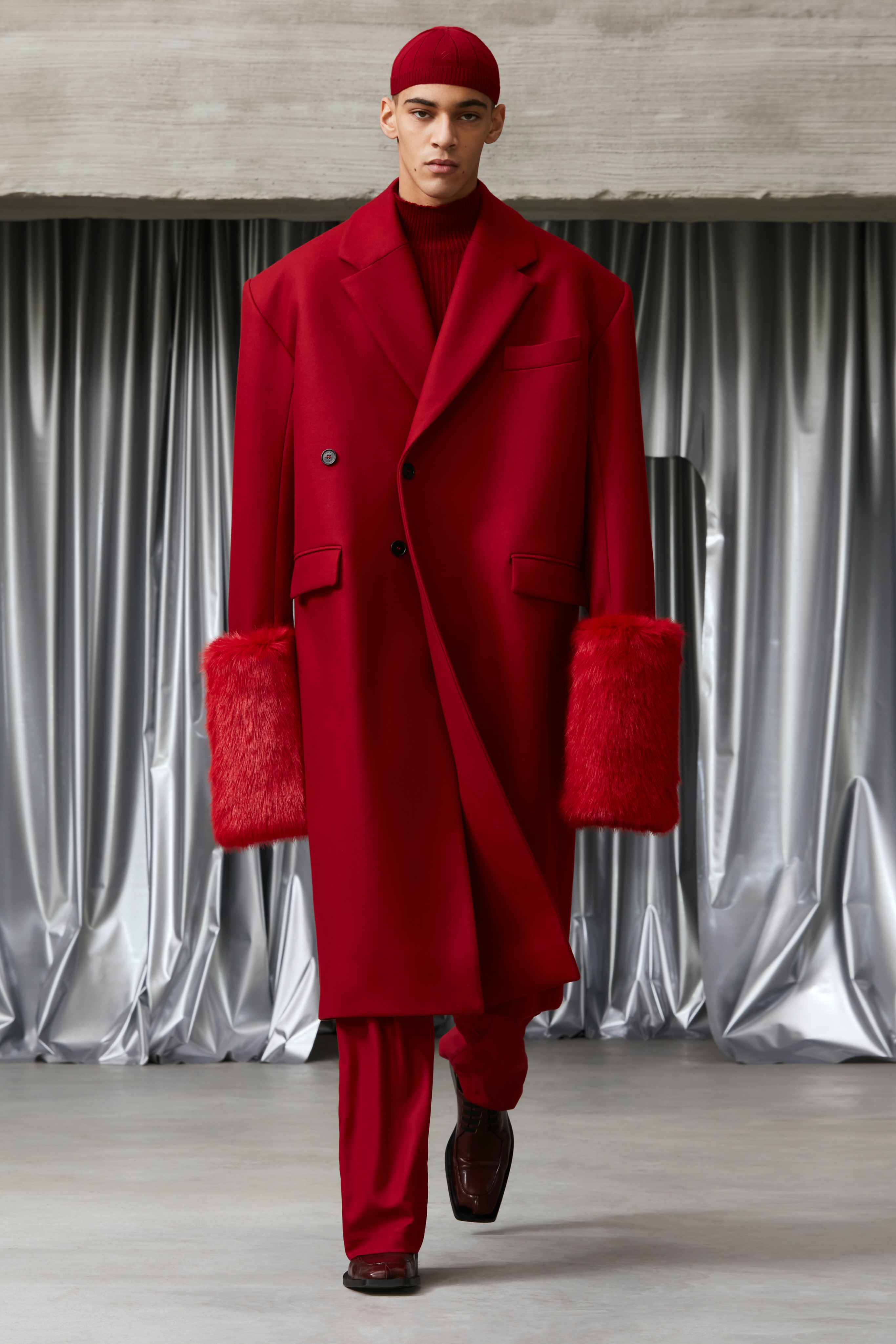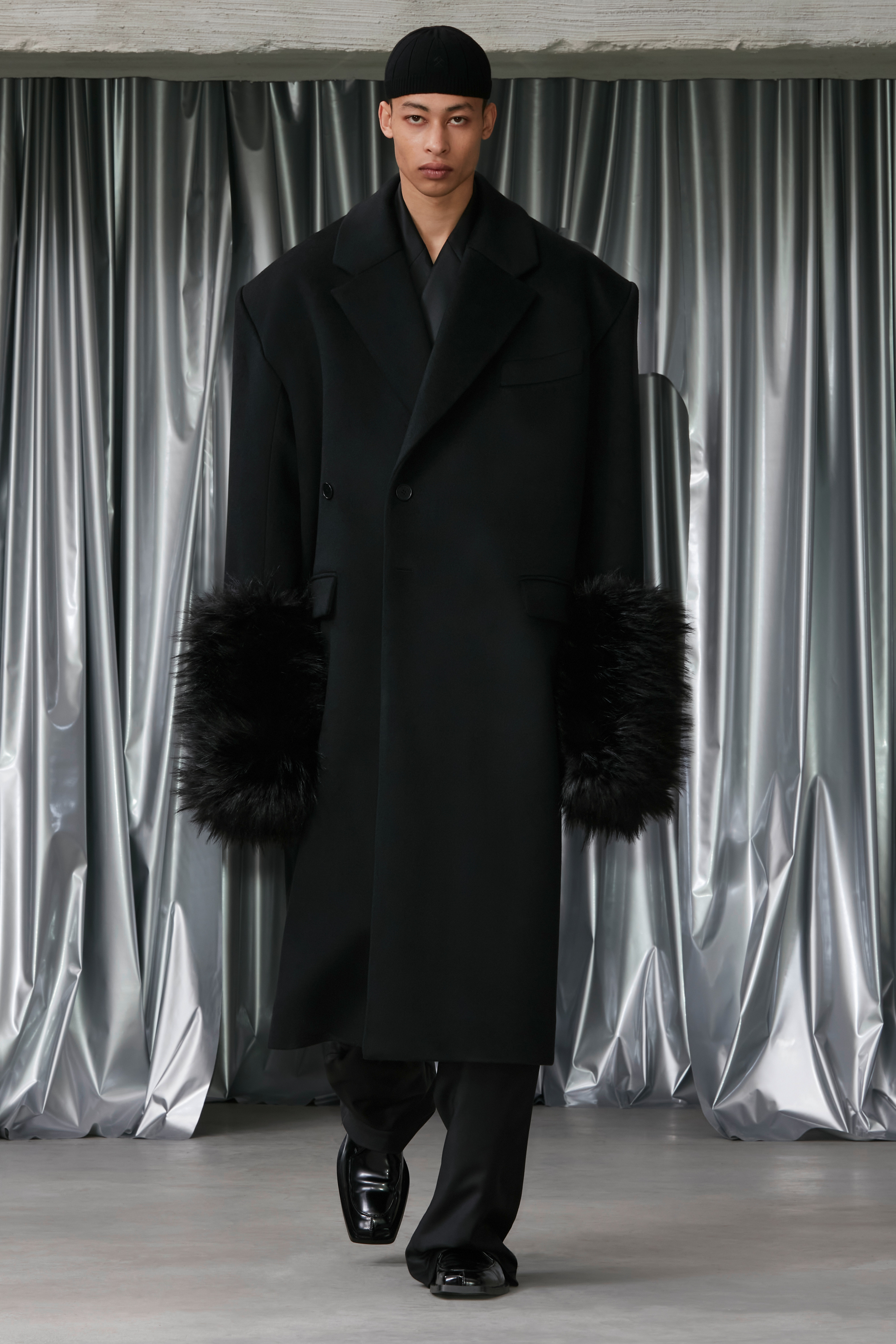 Follow iD on Instagram and TikTok for more fashion reviews.
---
Credits
All images courtesy of GmbH