Sasha Benz has been in the fashion world for a long time. The mother-of-three worked as a freelance stylist for years, contributing to magazines like vanity lounge and vogue australia, before launching the lifestyle blog "All My Friends Are Models". The Sydney native turned New Yorker became the creative director of The Surf Lodge in Montauk, then opened the luxury lifestyle boutique, Wyld Blue, which has locations in Montauk, Aspen and Manhattan (coming soon). Her Instagram page (@sasha.benz) perfectly showcases her beachy, neutral aesthetic, and you can't miss her adorable kids, who are the ultimate models of the soft, low-key baby and kids' clothes she offers at Wyld Blue. Ahead, Benz talks with Coveteur about her favorite kids' brands and how she approaches dressing her own children, and she shares her summer selection for kids.
Photo: Courtesy of Sasha Benz
Tell me a bit about dressing your children. Do they like to do their hair and dress up these days?
"It was definitely a lot easier to dress them exactly how I wanted until they hit a certain age. I have a six-year-old, a four-year-old, and another who's almost two. With my son, I had everything meticulously organized and he always looked so cool, there were always accessories… I was very grateful to have a girl next door because I probably styled too much for him. There was a hat, a boy's necklace, and lots of neutrals, which tells how the store went because I really like neutrals.
When they started being three and four, that's when they started having their own voice. With my daughter, I don't know if it's because I removed the color so much because she's so girly, but she loves all things shiny, sparkly, and sparkly and she'll have about 17 outfit changes in any time. My son loves activewear, but when we go out somewhere nice he really puts his own outfit together and he likes to match. Over the years we've said that if you want to go out to a nice restaurant with mom and dad, you have to put on your best clothes, so I think they just fit. My third daughter only has second-hand clothes. I haven't had time to buy him anything new. She has a mix of boy and girl clothes, but they're still cute."
How do you balance function and style when it comes to the clothes you dress your kids in? Often some of the cutest clothes have the most snaps or are made of fabric that can only be dry cleaned, which is kind of crazy for kids.
"When I say we dress the kids well, they don't go into designer clothes. We've found some really beautiful, durable, amazing clothes. We go with soft linens and cottons. You learn very quickly what's needed item and what works for you. Anything with lots of buttons…you don't want that. You need zippers. I've never put my kids in things that are uncomfortable, like fabrics or jeans. I always find it funny when I see kids in jeans. We work with a lot of big Korean brands for the store – I think they do it so well. And then we have a few brands, like The Simple Folk and Little Creative Factory. I think their stuff is so beautiful."
You have this very beautiful family aesthetic, the store is a perfect representation of it. Is it something you do consciously? Or does it happen more organically?
"My style has always been a little softer and more neutral with the occasional pop of color here and there. I always wear big gold jewelry…you know, statement pieces. As a stylist there's years I figured out very quickly how to scan a room and grab what I like I know what I like and I know what I don't even when we do our dates in the room exposure for the store, everyone always says we're so fast. I think that vision also translates to the store and to the kids too."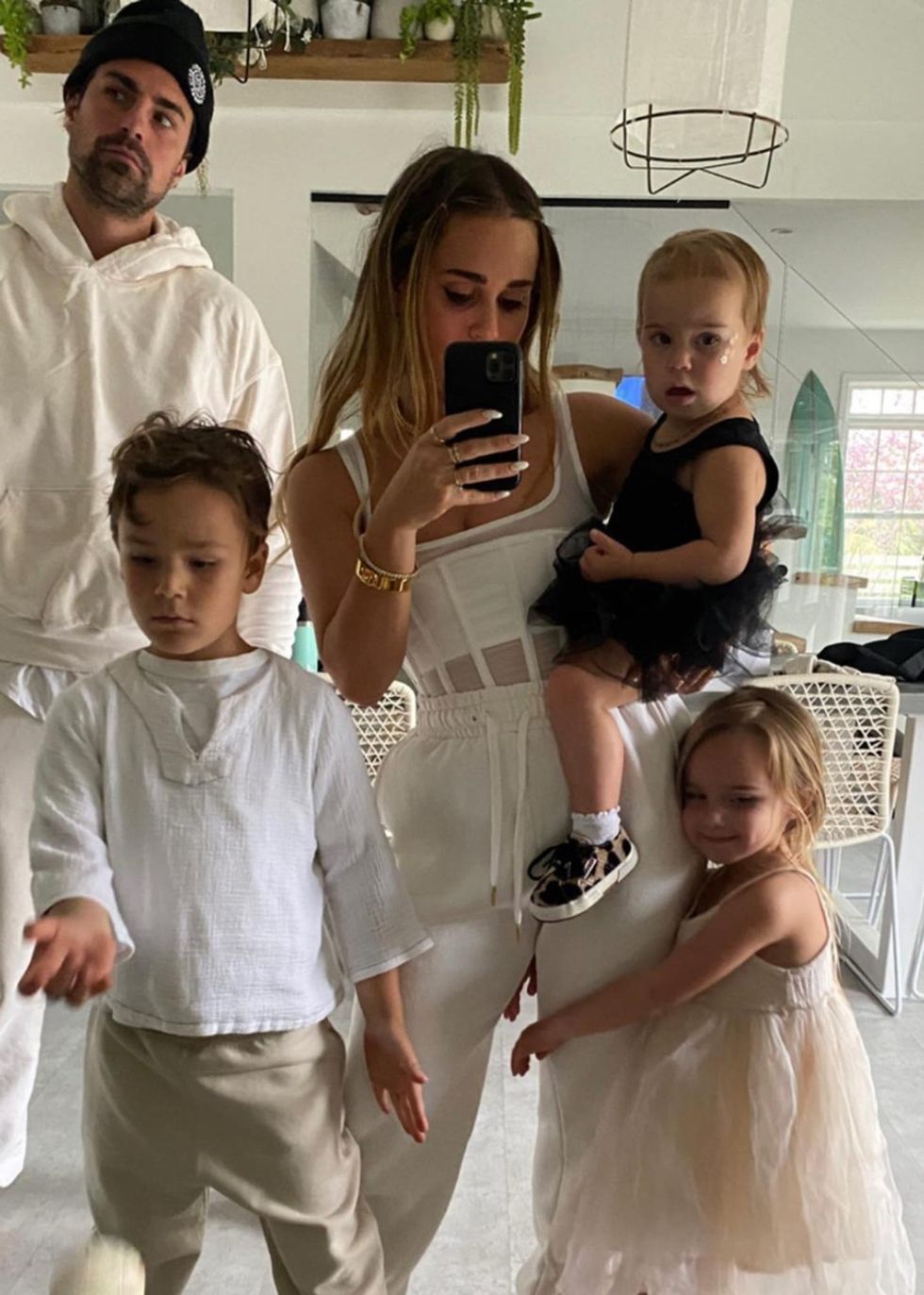 Photo: Courtesy of Sasha Benz
How has motherhood changed your personal style, if any?
"You start thinking more about comfort and practicality. I'm definitely going to be ambitious and wear a nice white outfit and then suddenly walk past the kids on the way out and one of them will grab me and I'll have some food all over me.Through three pregnancies you are starting to get to know your body a little better.I would always buy for the style and now I buy for my body.You determine what works for you and it is important to make sure that it makes you feel good. That's the priority as a mom. There's so much going on and you're carrying so much weight, both physically and mentally. I think I've become a lot kinder to myself- even as you age.
Clothing can have such an impact on your self-esteem, both positively and negatively. How do you want to pass on these lessons to your daughters?
"They're still so young at this point. I always try to tell them how awesome they are, not how beautiful or perfect they are. I'll say, 'I love your freckles' or something like that. teach them how to say nice things to others is even more important My daughter always compliments people and I have learned that whenever you see someone make sure they feel good. It will always make them realize that kindness will prevail over beauty or whatever."
I love the gender neutrality of whatever you choose for your kids and the store. It is interesting to note that in our time, most baby and children's clothing is still very stereotypical. Why do you think that is? Are you frustrated with this?
"I was having a conversation with someone yesterday about this. I really struggled when I was trying to set up a kid's room and didn't find a lot of nice things that I liked. I ended up going to Etsy and customizing a lot of things. I often get this with my daughter because she just has this weird haircut and she really looks like my son. I'm going to put her in a necklace with a tutu and people will say, 'How old is your son?' That's probably why people have gotten used to picking a color and then people will know it's a boy or a girl and maybe avoid that I don't know if that's necessarily justifiable, but it's maybe that's where it all came from. I'm sure every retailer has their reason, but I wish people would pay a little attention to Australian and European brands."
What are some of your favorite places to shop for your kids (aside from Wyld Blue, of course)?
"When I travel I explore children's clothing a lot more. When I'm in Australia there's an amazing store called Ashley and Dana and there's Mama Papa, those are my two favourites. And I love kids by Lenni Rae. Those are the three I always go back to."
Shop Benz Summer Edition: