Zinyet Veliyeva made her first parade at the age of 48, wearing a light blue shirt and dark pants. Hasan, her eight-year-old son, pushed her wheelchair.
"I watched videos from previous shows," says Veliyeva. "Most models were thin and I thought why not have a thick model."
When she was still in school, Veliyeva had a stroke that resulted in paraparesis, the partial loss of leg movement. She became Azerbaijan's first female Paralympic athlete, qualifying for the London 2012 Paralympic Games in archery.
She loves jumpsuits, t-shirts and pants – the more colorful the better – but can't get them on and off easily because they don't have zippers or buttons where she needs them. requires.
Over the summer, Veliyeva was one of 20 models who took part in the Kekalove adaptive fashion show at the Marriott Absheron hotel in Baku.
Male and female models with various disabilities paraded, alone or accompanied, in front of a large audience.
The show was the brainchild of Mahammad Kekalov, a 21-year-old student. Months earlier, he had visited Veliyeva and her husband, Galib Aliyev, at their home with his business partner Rashada Aliyeva, the first designer of adaptive clothing in Azerbaijan. Aliyev also has a disability, having lost a leg when he stepped on a landmine in the first of two wars between Azerbaijan and neighboring Armenia over the past 30 years. The conflicts resulted in hundreds of amputees.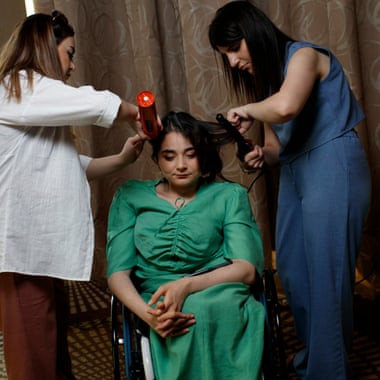 Aliyev often thought there had to be a better way to dress: "I thought it would be more convenient to take off and wear clothes with the prosthesis," he says.
Aliyeva and Kekalov talked to Aliyev and created clothes based on what he said. Aliyev then tested the designs and gave his thoughts on what worked and what didn't.
Kekalov was inspired to start the business by his late grandmother, Salimat Kekalova. She was visually impaired, so getting dressed could be a challenge. Coupled with a year spent with an American family caring for disabled children, he was led to think about adaptive clothing as a solution.
"Like with my grandmother, I see the same in the people we work with. We ask them if they need help or if they have any problems with clothing. They say no, but we find out that "they find it difficult to dress. They are so used to it that they don't see it as a problem but as a daily reality.
It's one of the reasons he puts on fashion shows – he's already done three – he thinks people who perform have more body confidence. "They're moving away from body stigma and that's the main reason we're doing it," he says.
The first two shows took place last year. The first cost $13,000 (£15,500), paid for by the US Embassy in Azerbaijan; by the second, Kekalov was selling the concept, encouraging companies to buy sponsorships to show solidarity with people with disabilities.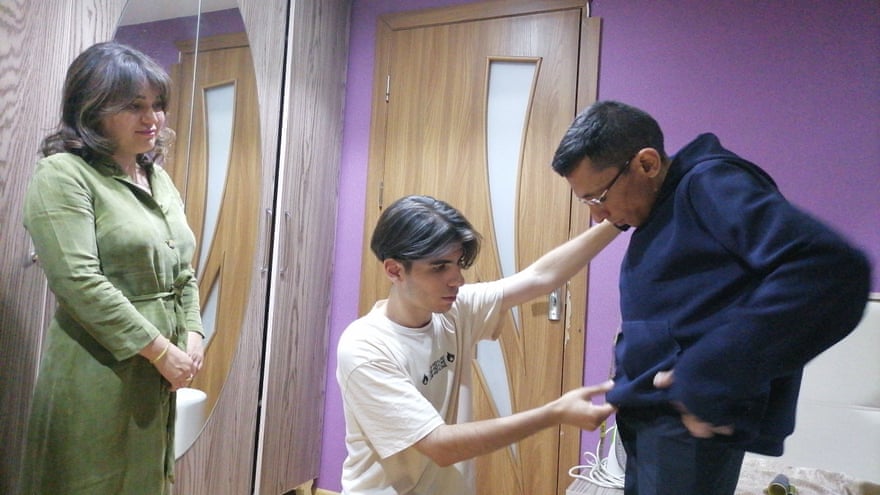 Rahim Rzayev, 36, was on the podium wearing a turquoise Hawaiian shirt and wide white pants buttoned up on both sides. Like Veliyeva, he had followed the show on social networks: "He who does not take risks, does not win anything", he says.
Rzayev, who recently married and will soon be a father, has suffered from a severe form of scoliosis since the age of six, he has a curvature of the spine and a twisted bone in his right leg.
His schooling was limited to a few weekly home visits from a teacher. He now earns his living by selling handicrafts but struggles to find clothes: "When I wear pants, the waist is thin and tight. If the size is right, the hem is too long.
Rzayev persuaded his friend Khayyam Rahimov to perform with him in the show. Rahimov suffers from anemia and his legs are of different lengths; previously, he had covered his uneven clothes with a thick jacket.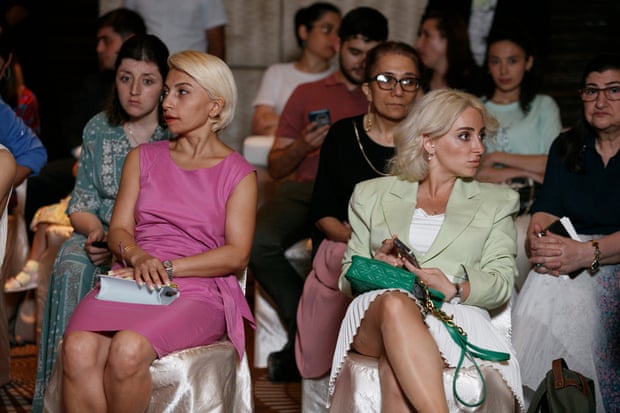 The price of clothes made by Kekalov ranges from £130 to £215, putting them out of reach for many Azerbaijanis, where the average monthly salary is around £420. So the team donates their clothes to the models for nothing.
But Kekalov says the show needs to be financially viable. "Our plan is to have a supply chain to sell products in western countries, for example in Germany, where there is a proven track of adaptive fashion brands."
Kekalov also contacts representatives and fashion designers in Georgia, Turkey and Uzbekistan, countries with "similar disability ecosystems". The team plans to hold a series of shows in each of these countries this year, using models with disabilities.
"It will help us better understand how fashion can make the connection between disability and geographical cultural aspects," says Kekalov.
Sign up for a different perspective with our Global Dispatch newsletter – a roundup of our best stories from around the world, recommended reading and our team's thoughts on key development and human rights issues, delivered in your inbox every two weeks: